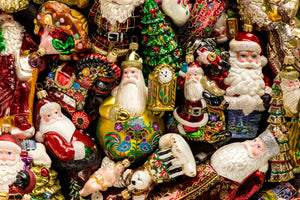 Shop Handmade Polish Christmas Ornaments
Mysteria combines a passion for design with the métier of producing traditional glass Christmas ornaments. High quality, a strong market position and long-term relationships with their customers make Mysteria an ideal business partner.

The Polish traditional mouth-blowing and hand painting of glass ornaments lie at the very heart of Mysteria. We design and produce Christmas ornaments to the highest quality standards. Throughout the old fashioned manufacturing cycle, from mouth-blowing, silvering with native silver, hand decorating, and packaging, each ornament is handled with care and given the special touch needed to produce a one-of-a-kind work of art.

Mysteria offers its own collection of Christmas ornaments. Every year new designs are created and brought into the finest collections in the world. Many exclusive ornaments are produced as fundraisers or licensed ornaments for companies. We have introduced Mysteria Custom & Private Label project for our customers. It offers the possibility of creating, in cooperation with our designers, your own glass ornaments. In other words, we offer a full service - from the original idea to the final product.